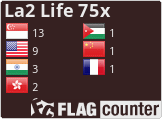 News
---
Event Double - XP/SP/DROP/ADENA!
December 22, 2016
Lineage 2 Life 75x - Interlude [NO CUSTOM]
Website: www.la2life.com
Event Double - XP/SP/DROP/ADENA!
Start date: 12/24 - 01:00
Date of termination: 12/26 01:00
Obs: It will not work Raid boss and in Grand boss!
---
See more
Grande Inauguração HOJE!
Hello dear players with great pleasure we announce our grand opening today 16:00 GMT-3 so make your registration download our system and come and have fun!
Great Inauguration 12/17/2016
Hello dear players, we are looking forward to the grand opening on 17/12/2016 - 16:00 GMT-3. Call your friends bring your clan and come have fun with us! For clans that want to r...
Downloads + Registers Released!
Hello dear players we have just released the downloads and the logs can create your account and download our system for the great day 17/12/2016 our grand opening. Register: ...
View all